Our 10 Favorite Outfits From The 2018 NYFW
Posted by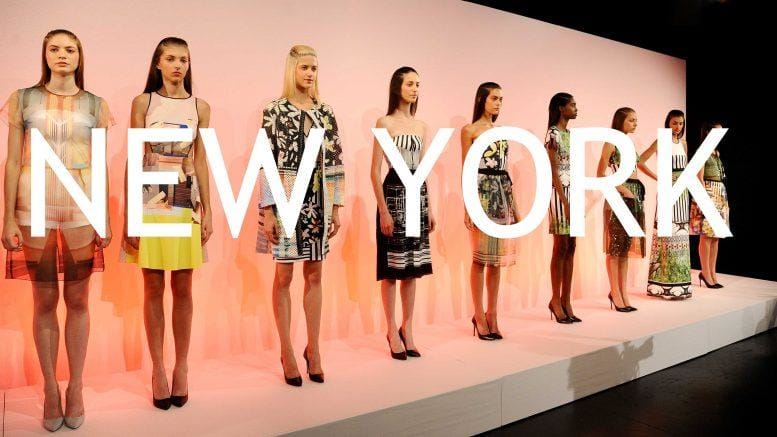 Mio Marino's 10 Favorite Outfits  From The 2018 NYFW

Lasting 8 days in total, the September 2018 New York Fashion Week was a wonderful festival of fashion of fun! If you couldn't make it, no worries - we've put together a list of our 10 favorite outfits!

For more NYFW news and info: http://nyfw.com/
New York Fashion Week: The Shows at Laudree on September 12, 2018 in New York City. (Photo by Yuchen Liao/Getty Images for NYFW: The Shows)

This particular model and outfit were an instant head-turner! From those minimalist flats to her knitted cap, this baby blue and canary yellow outfit was a natural choice for our top 10!
Fashion Week Wednesday, Sept. 12, 2018, in New York. (AP Photo/Kevin Hagen)

At number 9, we have a gorgeous outfit from the Marc Jacobs 2019 spring collection. With gold and white polka dot ruffles that blend effortlessly with the fierce pink and gold embroidered coat, it was this combination of fashionably classic design and bold colors that left us asking for more! 
Fashion Week in New York, Monday, Sept. 10, 2018. (AP Photo/Richard Drew)

Stepping into the number 8 spotlight is an outfit from the Carolina Herrera 2019 spring collection. While this outfit easily could of been at number 5 or higher - we just can't get over the boots! We agree that the design is super cute, but they just kind of look like artsy brown paper bags. That being said, the overall outfit and this model were stunning!

World Trade Center on September 8, 2018 in New York City. (Photo by Jared Siskin/Getty Images for Longchamp)

Even though she wasn't a runway model (this time around), Kendall Jenner's outfit for the Longchamp Spring/Summer 2019 Runway Show is our number 7 pick! While her outfit wasn't worn as a tribute to Prince (R.I.P.) - we think anyone that can wear royal purple and look amazing doing it, deserves a little fashion recognition!

New York Fashion Week, Friday, Sept. 7, 2018. (AP Photo/Diane Bondareff)

Our number 6 pick for best outfit, is this regal masterpiece that model Gigi Hadid wore while representing the Ralph Lauren 50th Anniversary Fashion Show. A true masterpiece of design, the vast array of colors and patterns  are placed in just the right locations - that nothing draws too much attention away from any other spot on the outfit!

Fashion Week Sunday, Sept. 9, 2018, in New York. (AP Photo/Kevin Hagen).

You might be trying to guess which outfit in this photo is our number 5 pick, but here's a hint: it wasn't just one outfit that made the Prabal Gurung 2019 spring collection - it was ALL of them! The vibrant colors, multitude of models, and everything in between, it all came together in a wonderful display of art and fashion that left us breathless.

Fashion Week on Sunday, Sept. 9, 2018 in New York. (Photo by Charles Sykes/Invision/AP)

The rain couldn't stop our number 4 pick for best outfit, actually it helped! This model took us by surprise when she stepped out during Rodarte show. With adorning gold flower armlets and roses throughout her hair, this wonderful combination of nature and fashion made sitting through all that rain worth it, 100x over!



Fashion Week in New York, Monday, Sept. 10, 2018. (AP Photo/Richard Drew)

Representing the 2019 spring collection for Studio 189, our number 3 pick was selected for it's clean and modern look. No belt, no tie, just all style and personality. Heck, he even makes the popped collar look good!
Fashion Week on September 6, 2018 in New York City. (Photo by Slaven Vlasic/Getty Images)

Do we even need to explain how this outfit made it to number 2?! I mean, just look at it! Representing Pamella Roland for the Spring Studios at Pier 59, this outfit instantly had us dreaming of the glamorous  1920's, drinking  champagne,  and watching the ball drop in New York Square. Need we say more?

Fashion Week, Friday Sept. 7, 2018 in New York. (AP Photo/Bebeto Matthews)

Partly because the outfit and handbag look amazing, and partly because Kate Spade was such a wonderful and inspiring fashion designer - our number 1 pick for best outfit is from the Kate Spade collection. While a lot of fashion companies are pushing for a more vintage look, the pink shamrocks and matching black bag help give this retro style a modern makeover.
Did you enjoy our latest blog? Join our Curators of Culture reward program and share this blog post for extra points!